Shortcuts to
join us now:

To join the Association now by credit or debit card, click: OR to subscribe now by PayPal

*

for £55 a year, click:

More on joining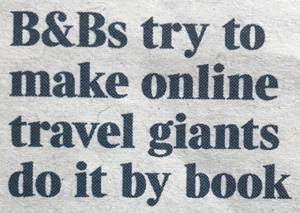 We are "taking on" the big online travel agents (OTAs) on your behalf: see our campaigns. To help our "fighting fund", donate here: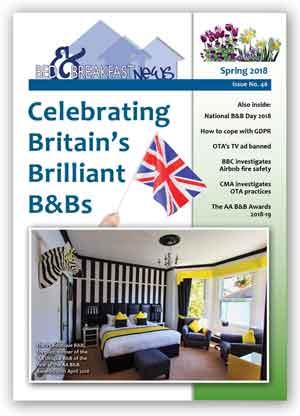 B&B News magazine Spring issue is out - our members receive every issue.
Read more...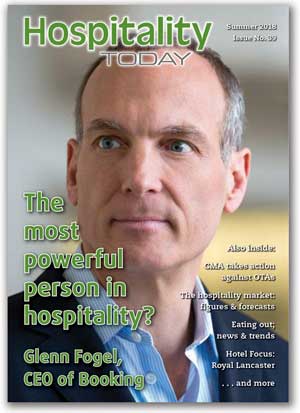 Read Hospitality Today online: click the front cover above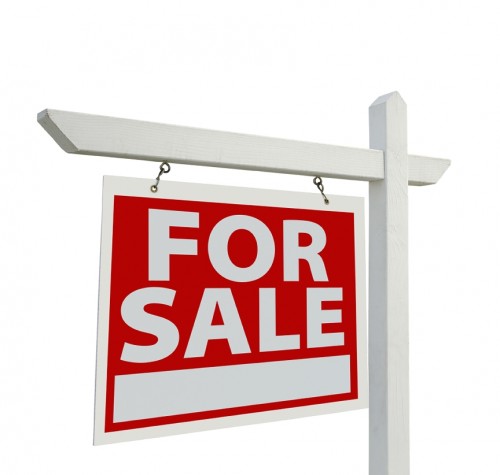 For B&Bs For Sale:
BandBsForSale.info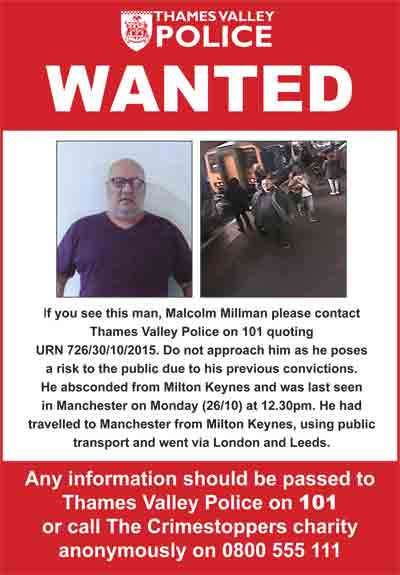 Police Wanted: see our Alerts page.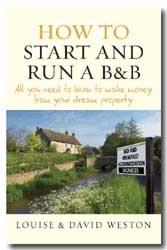 "How to Start & Run a B&B", published by How To Books at £12.99, is available as an eBook for £9.99 See Offer.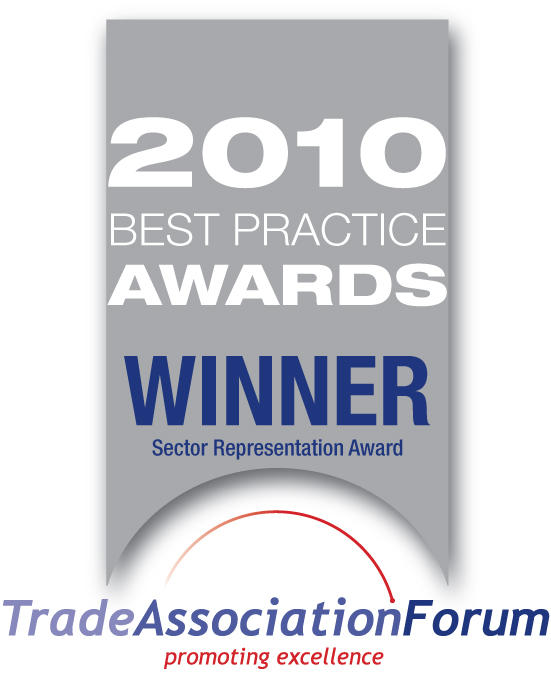 Winners of the prestigious
Trade Association Forum
'Sector Representation'
Award 2010 - click the
logo above for details





Do you run a B&B or guesthouse in the UK -
or let rooms in your home to paying guests?


if so, we are here to help, support, inform and represent YOU...




The Bed & Breakfast Association is the UK trade association for B&Bs and Guest Houses. It was judged best trade association in the UK for representing its members in the Trade Association Forum "Best Practice Awards" 2010, and won the Award as Best Hospitality Trade Association in the UK Corporate Excellence Awards 2016 (read more...). You can join us from only £1.06 a week (more about joining us).









JOIN US NOW to help us fight for a fairer relationship with the big OTAs -

Read more...

B&B owner Sue Burrell in North Yorkshire says that the B&B Association helped her to go from starting up in 2012 to being crowned "World's No. 1 B&B" by TripAdvisor in January 2015 (read how...).

The Association exists to inform, support and represent its member B&B owners throughout the UK (scroll down to the foot of this page for our full Objectives). Read more...

&nbsp &nbsp "Britain is still the King of B&Bs" -
&nbsp &nbsp according to millions of TripAdvisor reviewers - in 2017
&nbsp &nbsp The No. 1 B&B in the world, and 5 of the top 10, are British
&nbsp &nbsp according to the Travellers' Choice Awards


The "Bed and Breakfast" sector in the UK is a £2 billion 'cottage industry', consisting of some 25,000 small owner-managed businesses. The best of the new generation of B&Bs are everything tourists now look for: small-scale, individual, high quality and with one-to-one personal service. The total "bedstock" of independent B&Bs makes up a fifth of the total 'serviced accommodation' sector in the UK.





Hospitality contributes over £115 billion to the UK economy per annum. The hospitality industry generated 153,000 new jobs from 2010 to 2012, accounting for 27.7% of all new jobs created in the UK. Now responsible for 2.68 million jobs, hospitality is Britain's fourth largest industry.
British Hospitality Association
Agenda for 300,000 new jobs [March 2013]

Travellers choose to stay for over 50 million guest-nights in British B&Bs. The Bed and Breakfast Association exists to represent this vital sector of business, and to inform and support its members.

You can join us for only £1.06 a week.





Competition watchdog announces "enforcement action" against OTAs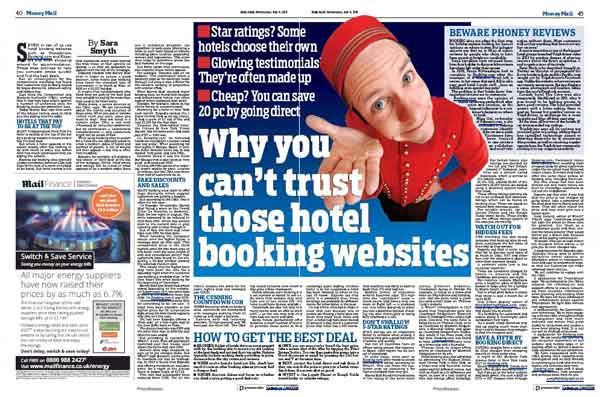 Above: how the Daily Mail covered the story on 4th July 2018


Thursday 28th June 2018: the UK competition regulator, the CMA, today launched "enforcement action against a number of hotel booking sites" that it believes "may be breaking consumer protection law".

The CMA's investigation was launched in October, and covers concerns raised by the Bed & Breakfast Association to the CMA last July and in a meeting with CMA officials in September.
David Weston, Chairman of the B&B Association, says: "The Bed & Breakfast Association are absolutely delighted that the UK competition regulator, the CMA, has today announced "enforcement action" against Online Travel Agencies (OTAs) that it believes are breaking consumer protection law. The areas covered are those we raised in our five formal complaints to the CMA last July - ie false 'discounts', false availability claims and other "pressure selling" techniques, manipulated search rankings influenced by payments to the OTAs, and false "Best Price" guarantees. The CMA's very welcome action will help move the balance of power a little from these global tech giants - who are after all only intermediaries - back towards the small businesses that actually own the accommodation booked, and provide the hospitality."

For full details, read the B&B Blog.




Minister and MPs visit B&Bs on National B&B Day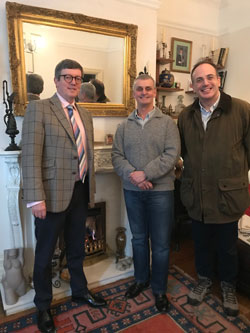 &nbsp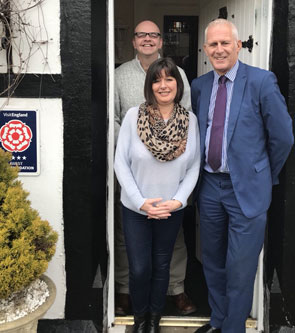 Above left: The Tourism Minister, Michael Ellis MP (right) meets Rick Wilson (centre), owner of Hillview Guest House, in his Northampton North constituency with David weston (left), Chairman of the Bed & Breakfast Association, on the first National B&B Day, Saturday 24th March 2018.
Above right: Gordon Marsden MP (right) meets Kath and Rick, owners of the Old Coach House B&B in South Shore, Blackpool, to celebrate National B&B Day 2018. Blackpool is the "B&B capital" of the UK with 862 B&Bs - that is 64 per square mile. Many other MPs visited B&Bs and guest houses in their constituencies on National B&B Day. Read more...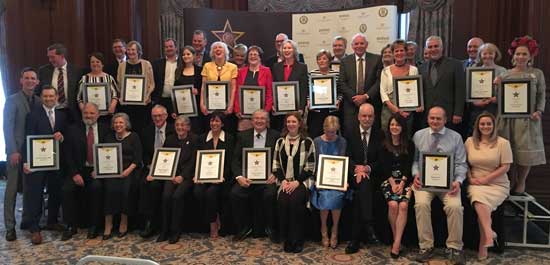 Above: The winners of the AA B&B Awards 2018-19, at the Landmark Hotel London after receiving their awards, 30th April 2018.



"I love a B&B" says Gyles Brandreth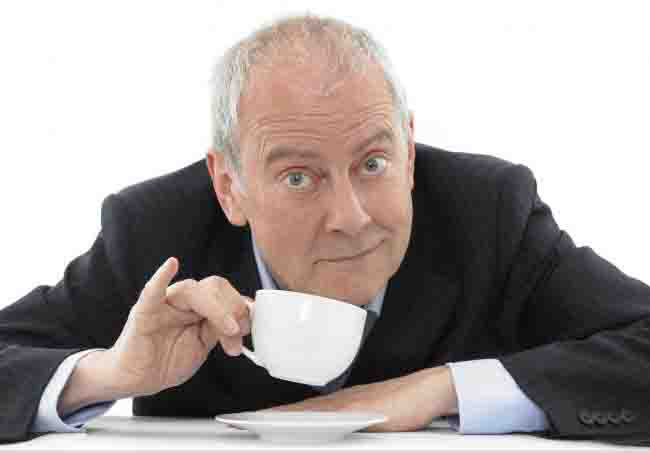 Broadcaster and author Gyles Brandreth tweeted about B&B Day to his 27,000 followers:

"When I'm on tour I love a B&B. (Better breakfasts & fewer cushions to heave off the bed.) I see this Saturday is #BandBday and I'm trying to work out where I'm going to stay. Now consulting @BandBassoc and bandbday.com."

"I like either a very grand Grand Hotel or a really cosy B&B with a proper breakfast that isn't a buffet that's been under the hot lights too long ... Well done B&B Association for creating B&B Day"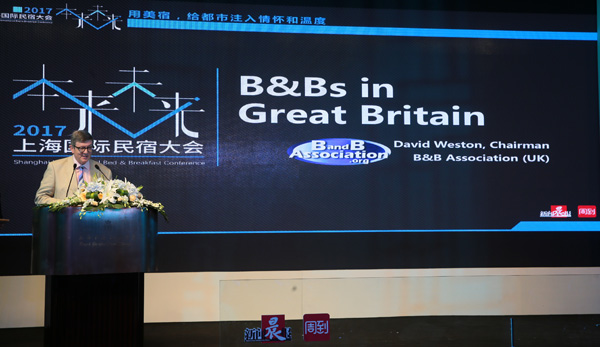 Above: Our Chairman, David Weston, addressing the first International B&B Conference in Shanghai, China, on 20th June 2017. A full report on the conference and on B&Bs in China was in the Summer 2017 issue of our member magazine, Bed & Breakfast News.



British B&Bs rated 10% higher than hotels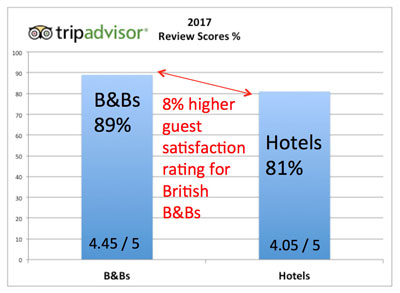 Millions of guests rate British B&Bs higher for guest satisfaction than hotels, data announced at The B&B Association's "B&B Summit" in London in October 2017 by TripAdvisor has revealed.

In 2017, the average TripAdvisor review rating on UK B&Bs was 4.45 (89%) compared to 4.05 (81%) on UK hotels - so the guest satisfaction rating for B&Bs was 10% higher than that for hotels.

(The No. 1 B&B in the world, and 5 of the top 10, are British, according to millions of TripAdvisor users worldwide.)

Read more...



ADVERTISEMENT:





House of Lords calls for investigation
into the "practices" of OTAs
B&B Association "delighted" that Peers agree
action is needed to protect B&Bs from abuse


The Times of 21 April 2016 carried a headline about the Lords warning about "rip off online travel agents" in the report 'Online Platforms and the Digital Single Market' from the House of Lords European Union Internal Market Sub-Committee, published that day. The B&B Association was one of the organisations which submitted evidence to the Committee during its enquiry. Read more...




ITV investigation reveals fire safety risks
going unchecked in Airbnb accommodation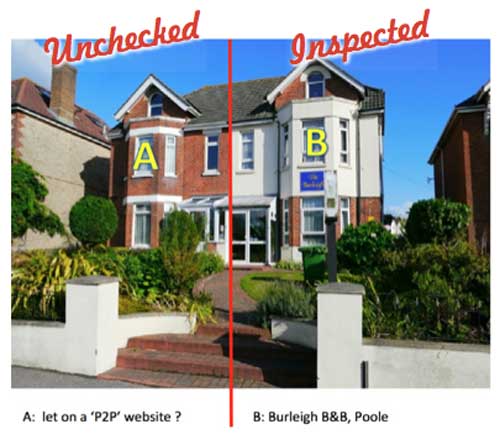 An ITV investigative programme this Summer has found that, over three years after the Bed & Breakfast Association first warned regulators, fire safety dangers are being left unchecked in the fastest-growing sector of tourist accommodation: premises let on 'peer-to-peer' (P2P) web platforms such as Airbnb, Wimdu and others. All the inspections done by Fire Auhorities to protect the public are made of the (25,000) bona fide B&Bs in the UK, and no inspections at all are made from amongst the (70,000+) P2P premises let to paying guests, ITV has found.
Read more...



27 February 2013
B&B Association "Alerts" leads to Arrest
of three fugitives by Police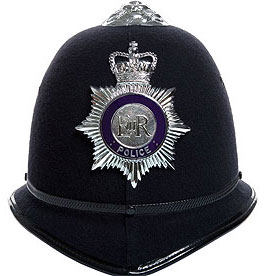 The B&B Association's member "Alerts" information has let to the Police arrest of three wanted men. See our News page.






Are you thinking of starting a B&B?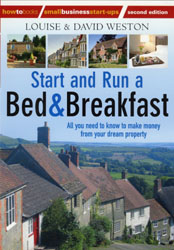 A comprehensive and practical book,"How to Start and Run a B&B", has been published by How To Books and is already on its second edition. It has been written by BBA Chairman David Weston and his wife Louise, based on their experience starting and running a four-star B&B in Dorset, and David's 20 years experience in travel and tourism. Read more...

&nbsp &nbsp "If you're thinking of buying a B&B or you've just started in one..buy it.
&nbsp &nbsp Solid advice, well written, good, up to date info especially on marketing"
&nbsp &nbsp &nbsp &nbsp &nbsp &nbsp &nbsp &nbsp The Times Online, Book Review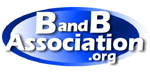 The Bed and Breakfast Association



The Bed and Breakfast Association is an independent, not-for-profit organisation with the following objectives on behalf of its members (who are bed & breakfast or guest house owners in the UK):

1) To represent the interests of members, and to campaign on behalf of those interests (for example, to Government and regulatory bodies);

2) To provide information and support services to members, to enable them to improve and develop their businesses;

3) To facilitate and enable the continuous professional development of the independent bed and breakfast sector in the UK, and promote best practice;

4) To promote to the public the advantages of staying in independent "bed and breakfast" accommodation.


The Bed and Breakfast Association defines "bed and breakfasts" as independent, owner-managed establishments not recognized as hotels, and offering overnight accommodation and breakfast on a "per night" basis to paying guests. Our membership includes both B&Bs and guest houses.

Subscribe now from only £55 a year.