"Brandjacking" by OTAs - taking over B&Bs' and hotels' names on Google




We are here to inform, support and represent our members - and representation involves running campaigns on various issues affecting our members.

Campaigning and lobbying is a very costly activity and we are a small, non-profit trade association with no shareholders, relying on member subscriptions for income. To help our campaign "fighting fund", you are very welcome to donate here:








Online Travel Agencies (OTAs), "rate parity" clauses and "brandjacking":





Above: a BBC South East report broadcast on 7 July 2020 on "rate parity" restrictive clauses by OTAs, and "brandjacking", in which reporter James Dunn interviews B&B Association member Paul King of Saltcote Place, Rye, local MP Sally-Ann Hart, Which? Travel Editor Rory Bolland, and B&B Association Chairman David Weston. (For more about these issues, see our campaigns and "brandjacking".)






Our Chairman David Weston wrote a 'comment' piece in The Times on 1st April 2019 about this: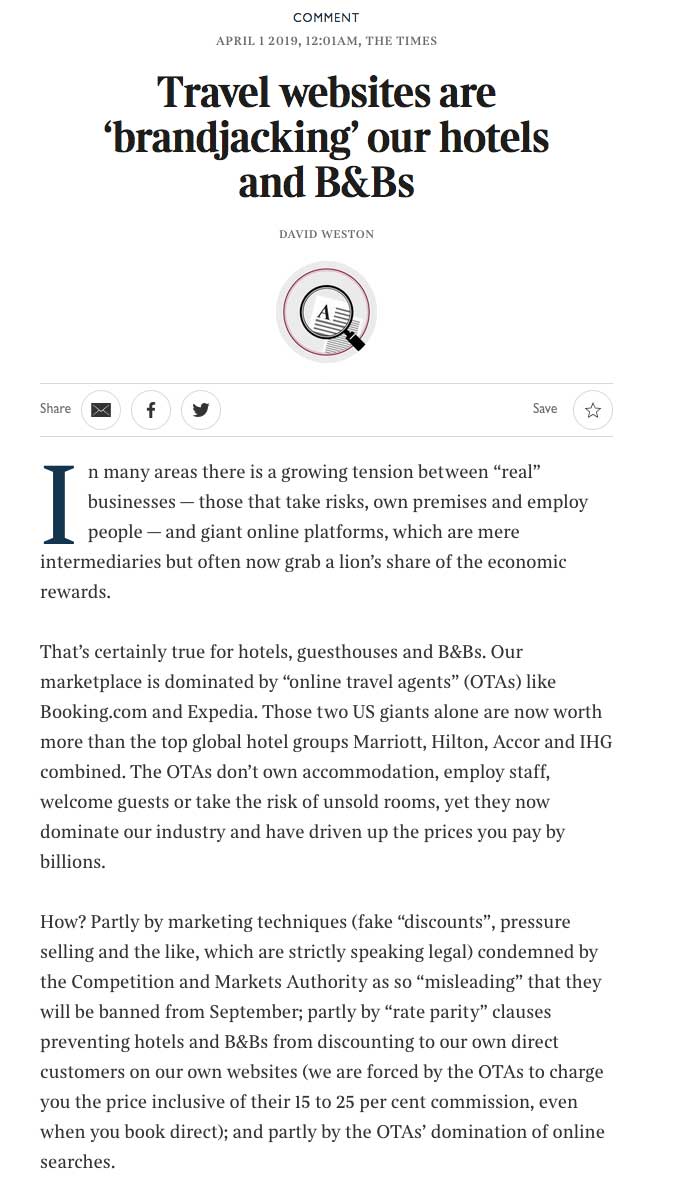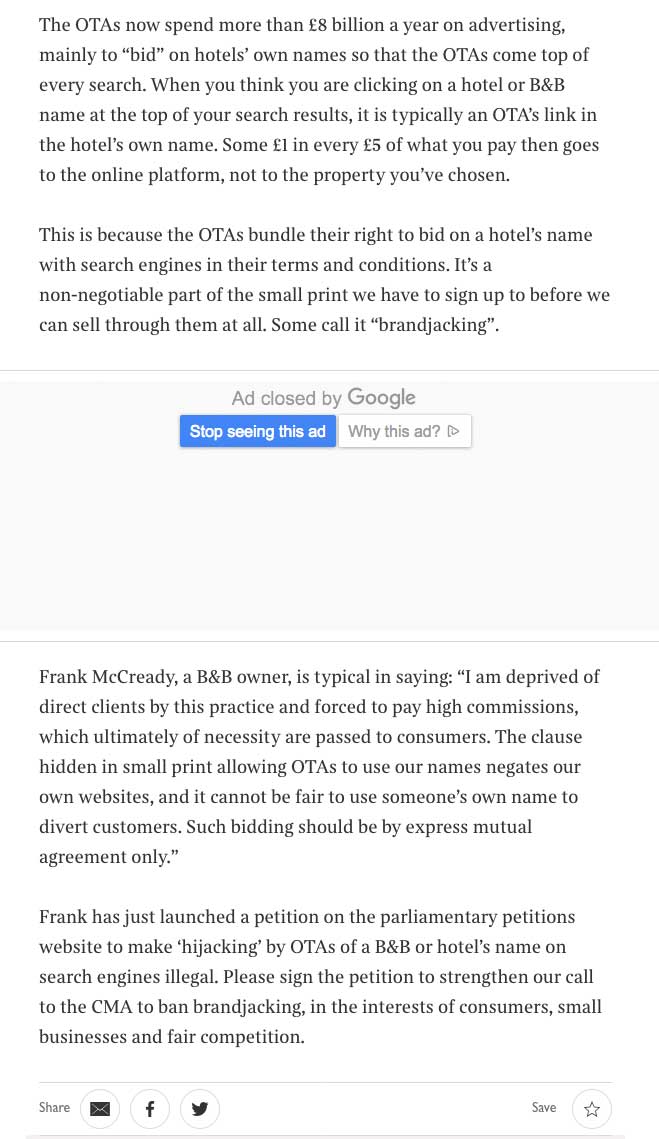 Sign the Parliamentary ePetition:





Make "highjacking" by OTAs of a B&B or hotel's name on search engines illegal



B&B owner Frank McCready has launched a Parliamentary Petition saying:
"Large On-line Travel Agencies (OTAs) bid on an hotels own name on internet search engines to divert enquiries to their own Platforms. It should be illegal to do this without a specific separate agreement."

CLICK HERE to read and sign the Petition online

CLICK HERE to read our blog about this, which explains the background. The Times covered this on 1st April 2019 - see below (click on the article to read on The Times website):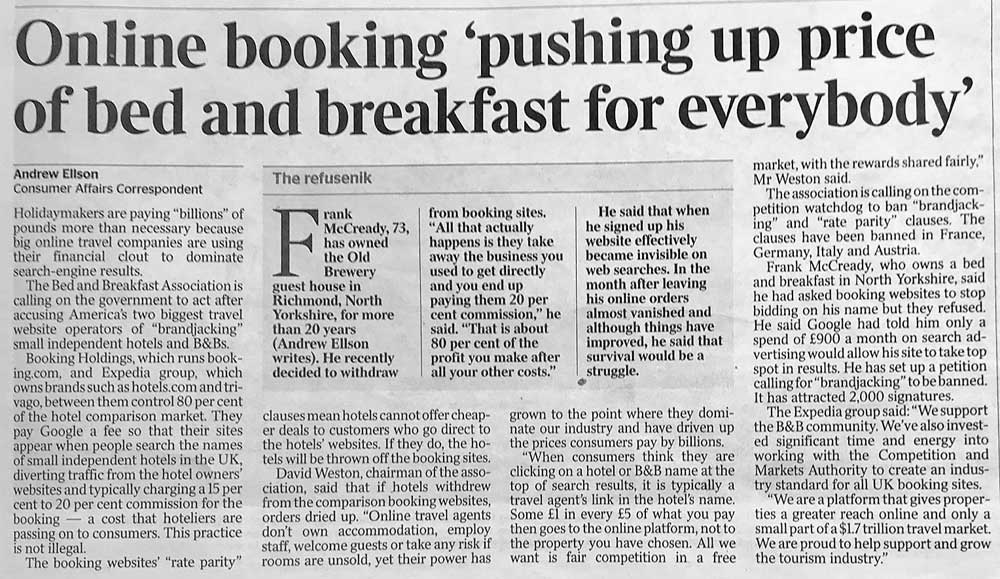 On 1st August 2017, the Bed & Breakfast Association formally lodged with the UK competition watchdog, the CMA, five complaints of anti-competitive practices by OTAs. The complaints are:

1) Against "rate parity" (narrow MFN) clauses, which prevent hotels/B&Bs from discounting to their own clients from their own websites;
2) Against false discounts created by OTAs to mislead consumers
3) Against false availability statements created by OTAs to mislead consumers (eg "Only 1 room free!" when there are five rooms free)
4) Against misleading, non-transparent and manipulated default search rankings by OTAs, and
5) Against forced (non-optional contract term) bidding by OTAs on hotel & B&B names with search engines - so the OTAs always get top search listing in the B&Bs own name, taking commission on every click


Then on 28th June 2018, the CMA acted. See our blog post:
CMA Announce "Enforcement Action" against Online Travel Agencies

And then on 6th February 2019, the CMA ordered Booking.co, Expedia and other OTAs to "make major changes" and to stop many of the misleading practices we had highlighted: Read the CMA's statement of action here.

Read our blog about their action here, and also in Travel Weekly magazine here - explaining how we welcome the CMA's action so far, but are urging the CMA to go further and:
a) BAN the restrictive practice by OTAs of imposing "rate parity" clauses on B&Bs and hotels; and
b) BAN brandjacking - that is, ban OTAs from 'bundling' agreement to bid on a hotel or B&B's name in their T&Cs - such bidding must be by separate express agreement.









To join the Association and support our campaigns, receive regular member bulletins, news about new and imminent regulations, and access to discounts and offers, click on the "Join Now" button below:









You can email us at: comment@BandBassociation.org