Our Campaigns on behalf of B&B and guest house owners




We are here to inform, support and represent our members - and representation involves running campaigns on various issues affecting our members. Some of these, present and past, are outlined below.

Campaigning and lobbying is a very costly activity and we are a small, non-profit trade association with no shareholders, relying on member subscriptions for income. To help our campaign "fighting fund", you are very welcome to donate here:









Unfair treatment of B&Bs by giant online travel agents (OTAs):



This article was published in The Spectator on 17 January 2020:

&nbsp &nbsp &nbsp &nbsp &nbsp &nbsp &nbsp &nbsp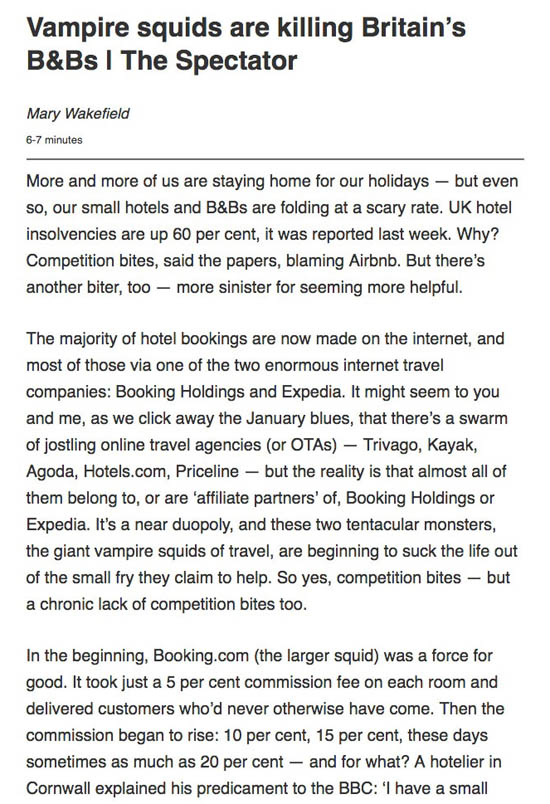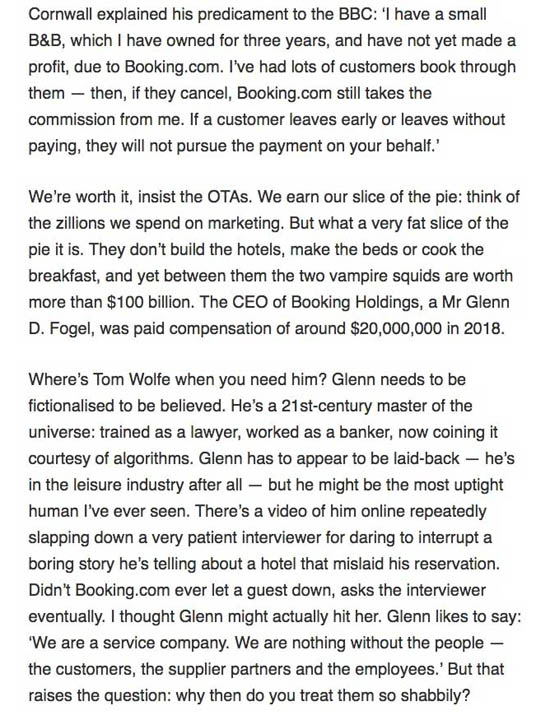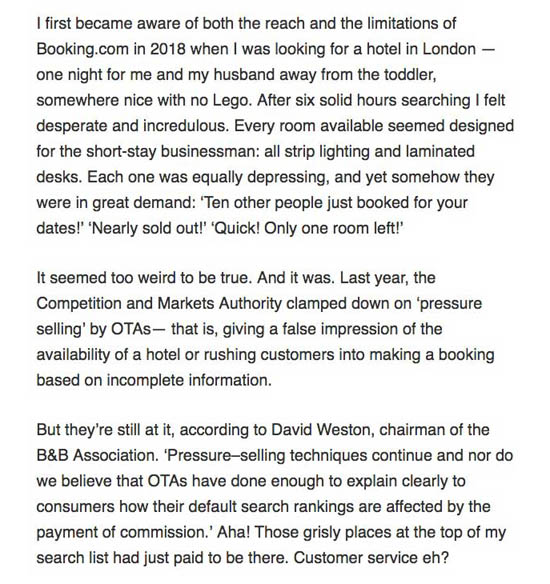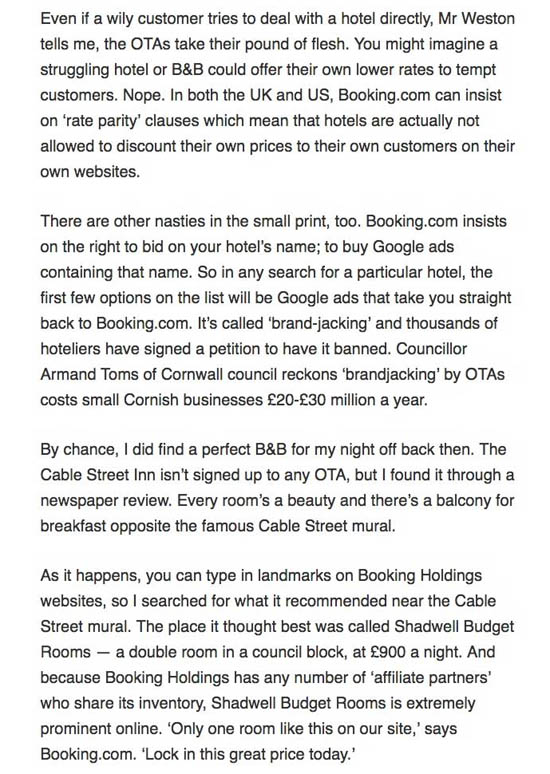 Online Travel Agencies (OTAs), "rate parity" clauses and "brandjacking":





Above: a BBC South East report broadcast on 7 July 2020 on "rate parity" restrictive clauses by OTAs, and "brandjacking", in which reporter James Dunn interviews B&B Association member Paul King of Saltcote Place, Rye, local MP Sally-Ann Hart, Which? Travel Editor Rory Bolland, and B&B Association Chairman David Weston. (For more about these issues, see our campaigns and "brandjacking".)









Make "highjacking" by OTAs of a B&B or hotel's name on search engines illegal



B&B owner Frank McCready launched a Parliamentary Petition saying:
"Large On-line Travel Agencies (OTAs) bid on an hotels own name on internet search engines to divert enquiries to their own Platforms. It should be illegal to do this without a specific separate agreement." The petition got over 3,000 signatures.


CLICK HERE to read our blog about this, which explains the background. The Times covered this on 1st April 2019 - see below (click on the article to read on The Times website):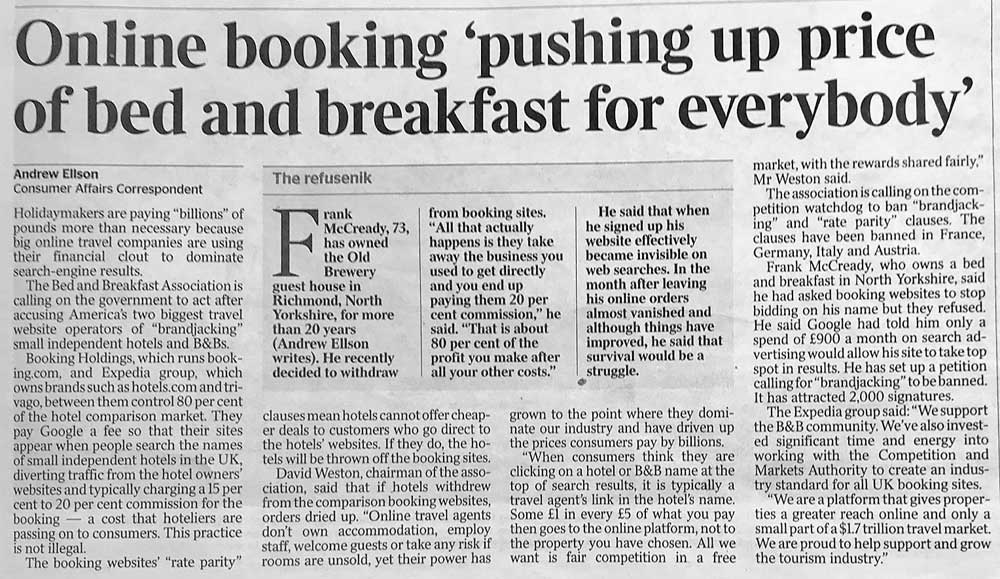 Our Chairman David Weston wrote a comment article in The Times about "Brandjacking" - read more by CLICKING HERE.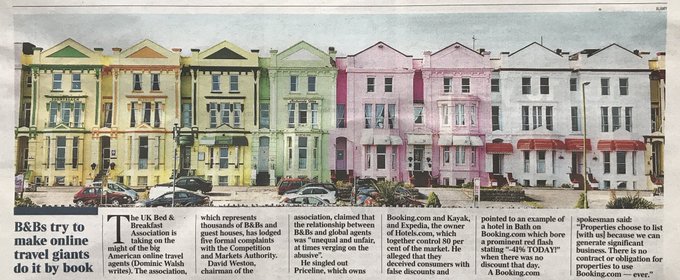 Stop the unfair and misleading treatment B&Bs receive from the giant OTAs



As you may have seen in The Times (7 August 2017, above) or perhaps in Travel Weekly or Travel GBI, the B&B Association has been at the centre of media attention for daring to challenge and "take on" the mighty global corporations that are more and more dominant in our business lives: the biggest global online travel agents (OTAs).

Two giant OTAs, Priceline Group (owners of Booking.com) and Expedia (owners of Hotels.com) have some 80% of the market, and they use this market dominance to force B&Bs and hotels into allowing them to use their own names for Google searches (so the OTAs come above you in a search for your own B&B name), and to prevent you from offering your lowest rates on your own website, and other highly questionable practices (like misleading consumers with fake "discounts" and false availability statements, and manipulated search rankings) - not to mention demanding commissions of between 15 and 35%!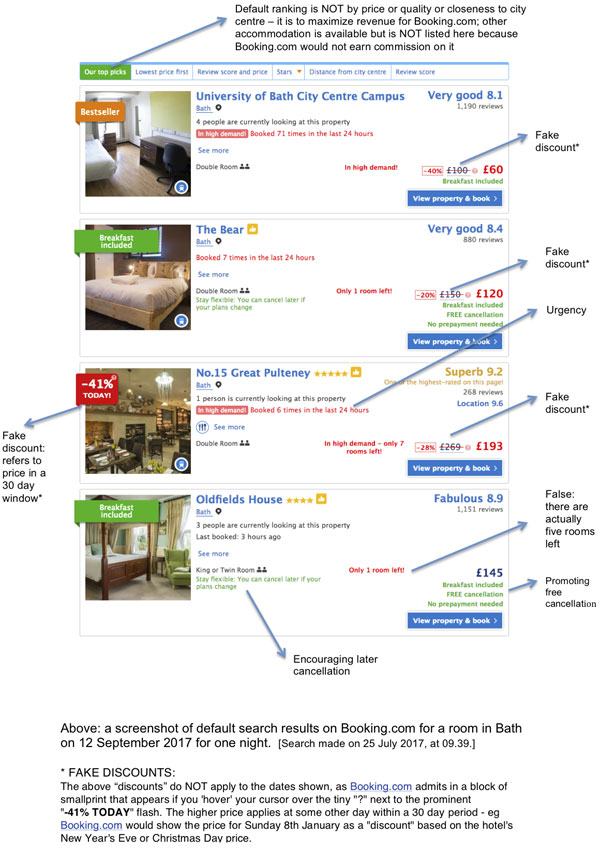 We are taking on these "giants" on your behalf, and are campaigning to try to prevent abuse and to secure the fairest possible competitive environment for B&Bs and guest houses in the UK, and the fair and honest treatment of consumers by OTAs.

On 1st August 2017, the Bed & Breakfast Association formally lodged with the UK competition watchdog, the CMA, five complaints of anti-competitive practices by OTAs. The complaints are:

1) Against "rate parity" (narrow MFN) clauses, which prevent hotels/B&Bs from discounting to their own clients from their own websites;
2) Against false discounts created by OTAs to mislead consumers
3) Against false availability statements created by OTAs to mislead consumers (eg "Only 1 room free!" when there are five rooms free)
4) Against misleading, non-transparent and manipulated default search rankings by OTAs, and
5) Against forced (non-optional contract term) bidding by OTAs on hotel & B&B names with search engines - so the OTAs always get top search listing in the B&Bs own name, taking commission on every click


Then on 28th June 2018, the CMA acted. See our blog post:
CMA Announce "Enforcement Action" against Online Travel Agencies

And then on 6th February 2019, the CMA ordered Booking.co, Expedia and other OTAs to "make major changes" and to stop many of the misleading practices we had highlighted: Read the CMA's statement of action here.

Read our blog about their action here, and also in Travel Weekly magazine here - explaining how we welcome the CMA's action so far, but are urging the CMA to go further and BAN the restrictive practice by OTAs of imposing "rate parity" clauses on B&Bs and hotels.



Please support us as we fight this and other threats to the health of your business.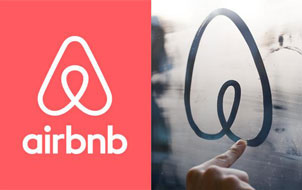 Let's level the enforcement playing-field



We are seeing a two-tier enforcement regime here in the UK by regulators: established, "bona fide" B&Bs like our members are visited, checked and comply with regulations (including the 2006 Fire Regulations - sometimes at disproportionate cost), yet their neighbours letting their spare bedrooms through websites like Airbnb or Wimdu seem to be effectively unregulated. This has been confirmed by 'Freedom of Information' questions to the London Fire Brigade, and by leaders of the Chief Fire Officers' Association (CFOA) and others.

We don't want more regulation - just a level playing-field: either the safety regulations should not apply to ANY very small property (for example, by exempting those with up to three letting bedrooms), OR they must be applied fairly and proportionately to all: to Airbnb hosts as well as bona fide B&Bs.

See our blog post: MPs call for "level playing field", and more responsibility from "Sharing Economy" platforms

And read our Chairman's article on 6 August 2018 in Travel GBI: Government must level the playing-field


For more background about this:

See our NEWS page - ITV investigation reveals Airbnb fire safety risks

See the B&B Blog - a ticking time bomb?

See David Weston's opinion piece on Travelmole.com

See B&Bs under threat - on Travelmole.com









February 2017





Fighting off the "Bed Tax" threat - again



Sometimes a battle is seemingly won - only to need fighting again another day. This is the case with the infamous "Bed Tax" - that is, a tax on accommodation (including B&B stays).

Back in March 2007, just before Gordon Brown's Budget, the 'Lyons Inquiry' report on local Government finance recommended introducing a power for local authorities to levy a tourism tax where there was a strong case to do so.

The Bed & Breakfast Association and other trade bodies vehemently protested about this threat to our businesses and to UK tourism. And Government actually listened (it has been known!) - Local Government Minister Phil Woolas pronounced: "The Government does not intend to introduce a tourism tax." We were delighted to have successfully fought the corner for B&Bs, and pleased to have won the battle on that issue.

That was then. Now in 2017, the Mayor of London, Sadiq Khan, has just announced that he will consider introducing a "tourism levy". The old "Bed Tax" threat rises again from its grave, ten years on.

The UK already has virtually the highest tourism taxes of all our EU competitors, with VAT at 20% compared to 5% in many countries, the highest Air Passenger Duty in the world (which impacts inbound visitors), and one of the world's highest rates of fuel duty (not to mention alcohol duties). Right now, many tourism and hospitality businesses - including many B&Bs and guest houses - are being hit with massive hikes in Business Rates (one of our small B&B members now faces a bill rising from zero to £3,000 - some 3% of total turnover).

The World Economic Forum, in its 2015 international tourism competitiveness survey, ranks the UK at 140th out of 141 countries in terms of tourism price competitiveness.

And there is already some evidence that overseas tourists are perceiving Brexit Britain (wrongly) as less welcoming. They have a choice where to go and spend their money.

Is this the moment to pile yet another new tax on those who come here to spend their money and help our balance of payments? We say: no it isn't.

And "Bed Taxes" don't work: in New York, a combined Tourism and sales Tax rate of 21.25% resulted in the convention industry halving in size within five years. They are unfairly targeted too: a bed tax on hotels and B&Bs would only target some 3.8% of the people visiting a destination, who would be penalised whilst day trippers, campers, self-caterers, Airbnb users and others would be subsidised at our expense.

And the 2015 Day Visitor Survey found that an overnight visitor spends £66 per day locally, whereas a day tripper spends just £35. So why discourage those who will get our economy moving?

Please support us as we fight this and other threats to the health of your business.









TripAdvisor - be fair and honest



There is huge concern about the number of false and malicious reviews on TripAdvisor, and many owners feel their business has been badly affected by even a single malicious review, often posted by someone who has never stayed, or even a competitor. There have been numerous articles in the media about this, including this one: TripAdvisor Reviews - Can We Trust Them? in the Daily Telegraph.

We are compliling a dossier on this and welcome your case studies about TripAdvisor: email us at comment@bandbassociation.org, putting "TripAdvisor" in the subject line.

NOTE: "Reviews" on TripAdvisor and other similar websites are covered by the laws of Defamation, so reviewers (contrary to what many of them seem to think) can be sued in UK or US courts for damaging and libellous statements.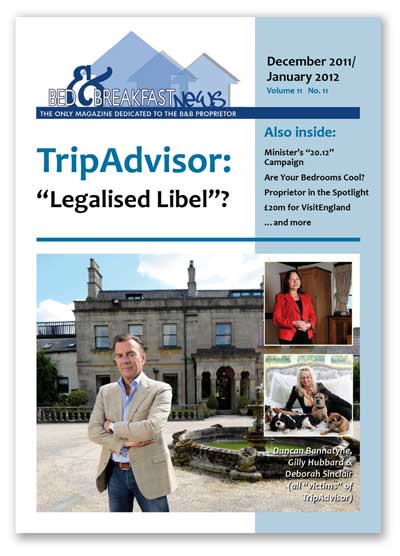 The Dec 2011/Jan 2012 issue of "Bed & Breakfast News" (above) included a major 6-page article about TripAdvisor, including the latest legal moves, the Government's initiative on user-review sites and more. Members of the Association have access to every current issue of Bed & Breakfast News, and an archive of back issues.









PRS for Music



PRS for Music have been accused of using aggressive telephone 'sales' techniques. We believe their charging of a much higher licence fee for B&Bs and guest houses where a TV or radio is present in a "public" area (eg dining room or lounge) is unfair double-charging, as there is no "public" access, only the same guests who are staying and listening to the radio or TV in their bedrooms. (There is much more detail on our member pages.)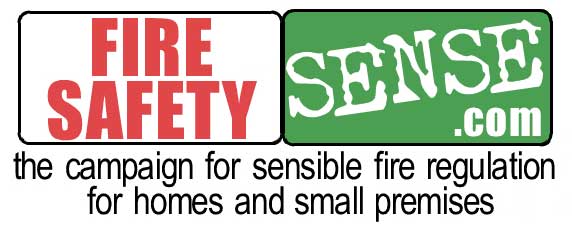 &nbsp &nbsp The 2006 Fire Regulations

Our biggest campaign over the last few years has been against the over-zealous and disporoportional enforcement of the 2006 fire regulations. Our Fire Safety SENSE campaign garnered support from organisations representing some 460,000 small businesses, and two shadow ministers, and our 10 Downing Street Petition was better supported than over 98.5% of all the many thousands of petitions on every subject, on the 10 Downing Street website.

OUTCOME: New, much less onerous guidelines for small B&Bs were introduced by both the Scottish and Westminster Governments. The Scottish Government announced that the resultant saving in cost burden on B&Bs in Scotland has been £100 million. In England and Wales, some Fire Authorities withdrew Enforcement Notices issued under the previous guidelines against small B&Bs. (There is much more detail on our member pages.)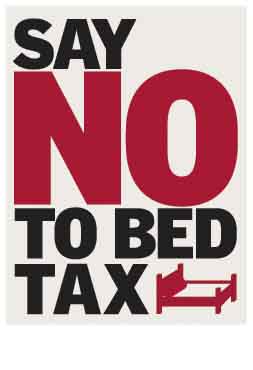 &nbsp &nbsp The "Bed Tax"

The Lyons Inquiry for the last Government looked at Local Government Finance and (in 2007) recommended the introduction of a "local accommodation tax" on all hotels, B&Bs and guest houses - the so-called "bed tax". We and other tourism trade associations lobbied vigorously against this.

OUTCOME: The then Government quickly rejected the Lyons Inquiry's "bed tax" recommendation, so this was a win - or temporary reprieve. The Coalition Government in 2010 is again looking carefully at Local Government finance with a view to making huge savings and/or increasing tax revenues - so we must be vigilant for a reappearance of the "bed tax" proposal.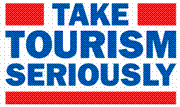 &nbsp &nbsp Take Tourism Seriously

The Bed & Breakfast Association is part of a united industry-wide campaign by tourism trade associations under the banner "Take Tourism Seriously" to persuade the Government to recognise the true value of tourism to the UK economy. Unfortunately, warm Government words on this are often belied by their actions: after something like eight Ministers with Tourism in their portfolio in just 11 years, the Conservatives promised a "dedicated" tourism minister - but since 2010 there have already been three different ministers, and the current one (Helen Grant) lists five Ministerial responsibilities on the DCMS website, of which tourism was fifth and last. This is a long-term campaign with many separate strands, and we will keep up the pressure and hold the Government to its proclaimed aims to promote tourism in and to the the UK, and to cut the burden of red tape on small tourism businesses.







To join the Association and support our campaigns, receive regular member bulletins, news about new and imminent regulations, and access to discounts and offers, click on the "Join Now" button below:









You can email us at: comment@BandBassociation.org